Norris - Items tagged as "Color names: norris"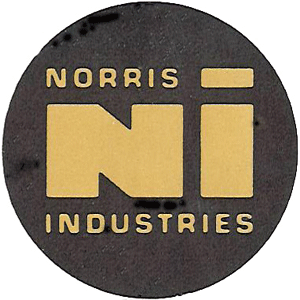 Kenneth True Norris, Sr. founded Norris Industries in Los Angeles, California, in 1930 calling it Norris Stamping and Manufacturing Company. Its first job was producing parts for Ford Model A bumpers. By 1937, the company had attracted enough notice to earn a state contract to manufacture license plates. Next, it received a military contract to build bombs. Then, Norris gained a million-dollar contract from the Navy.

In 1947, the company began producing plumbing fixtures, specifically porcelainized enameled pressed-steel kitchen sinks and bathtubs. These items were sold under the Norrisware label and the Sears, Roebuck & Co. label. It also made car wheels, steel gas cylinders and other steel products. In 1950, it acquired Thermador Electrical Manufacturing Company.

It also acquired Compressed Gas Cylinders, Inc., and went public. Because Norris was a relatively unknown name to the public and Thermador was quite famous, in 1951, the company renamed to Norris-Thermador Corporation.  
Norris-Thermador was granted another military contract, this time to build missiles during the Korean War. The company's stock was listed on the New York Stock Exchange. In 1961, it acquired U.S. Porcelain Enamel Company, a manufacturer of mobile home plumbing products. 

With the increased demand of weapons due to the conflict in Vietnam, Norris continued to prosper, and in 1964 it reorganized again, this time into ten independently operating divisions. The company's name was changed to Norris Industries. It acquired Price Pfister and Artistic Brass.


In 1981, Kohlberg, Kravis, & Roberts arranged a private buy-out for the company's public shareholders. It was renamed NI Industries, Inc. In 1985, the Masco Corporation acquired it, and renamed it Nimas Corporation for a time. 

In 1990, Mansfield Plumbing acquired the plumbing division of NI Industries. After further consolidation, Norris is no longer in current production.