Lids - Items tagged as "Condition: new"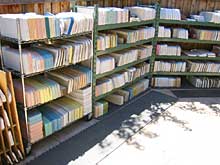 Toilet tank lids, aka tops, aka covers.
There are no numbers on toilets to indicate a color name. American Standard and Kohler have used some alpha abbreviations on off-whites.  This was to aid factory workers in distinguishing similar colors in dim light.  BONE = Bone, HTR = Heather, Lin = Linen, SHL = Shell.  Kohler uses ALM = Almond, BIS = Biscuit.
Many of our lids are yet to be listed.  For more brands, models & colors please call 650-483-1139.
shields gary plumbing szalay tom tjader dave vic herbot supply lid makau group jp store